Smithsonian Arts + Industries Building
"Suspended Spring" AR cherry blossoms by Tamiko Thiel
For the first time in Washington, D.C., experience the poetic beauty of swirling cherry blossoms anywhere, anytime. Timed with the start of the National Cherry Blossom Festival, this augmented reality (AR) artwork from acclaimed digital artist Tamiko Thiel (Japanese American, working in Germany) will be available across the DC region through the free AR app, ARpoise. Download and look through your smartphone's or tablet's screen to see your surroundings transformed into a meditative experience honoring the exquisite and fleeting beauty of spring's cherry blossoms, accompanied by a meditative variation of the Japanese folksong "Sakura."
Thiel's related work ReWildAR, created with her collaborator /p, is currently on view at the FUTURES exhibition at the Smithsonian's Arts + Industries Building. This augmented reality experience turns the building into a growing future wildflower meadow, envisioning the future city as a thriving ecosystem for nature.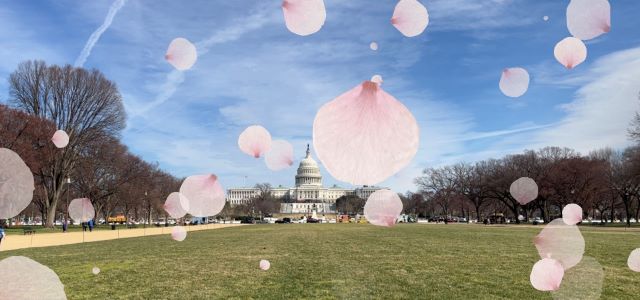 MAP YOUR FESTIVAL EXPERIENCE
What began with a gift in 1912 at the Tidal Basin is now a four-week extravaganza spanning Washington, DC, and neighboring communities in Maryland and Virginia. Click the filters on our interactive map to see all that the Festival has to offer and craft a tailored experience as you Rediscover Spring. From exciting events to convenient hotels, delectable Cherry Picks restaurants to vibrant Art in Bloom installations, and a jaw-dropping City in Bloom to joyful Petal Porches, see the Washington, DC area as you can only see it once a year!
Check out our other events