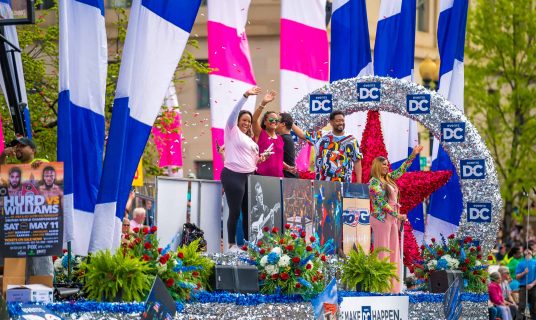 Watch an Encore Presentation of Past Parades!
For over 6 decades, the National Cherry Blossom Festival Parade® has turned Constitution Avenue into a promenade of petal greatness that can only be accomplished once a year. During that time, beloved local and nationally known celebrities have served as grand marshals, honorary hosts and special emcees-all contributing to building unforgettable performances and memories that stand the test of time.

While the 2020 National Cherry Blossom Festival Parade® presented by Events DC has been canceled, we're honored to air a very special presentation of past parade highlights on media partner station, ABC7 WJLA on Saturday, April 4, from 12 Noon – 1 PM.

The parade will also be available for viewing on demand on the Festival website at nationalcherryblossomfestivallive.org beginning at 2 PM on Saturday, April 4; and nationally syndicated beginning Saturday, April 11 (see listings below).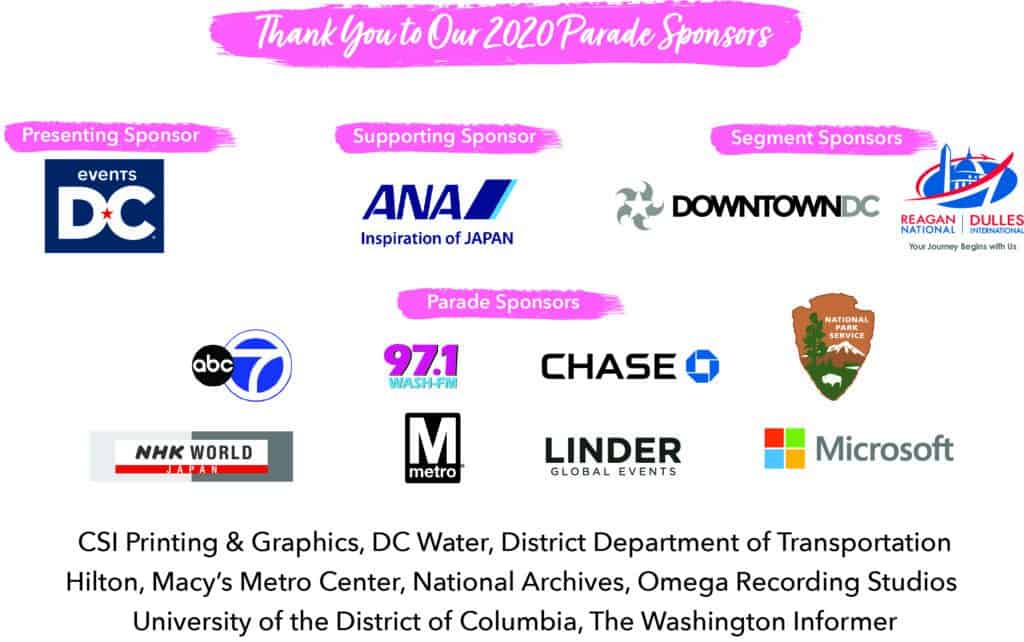 Broadcast schedule as of May 19, 2020. An updated schedule will be posted every Tuesday.
| | | | |
| --- | --- | --- | --- |
| Albany, GA | WSWG | CBS | Saturday 5/9 @ 12 noon |
| Albany-Schenectady-Troy | WNYT | NBC | Sunday 4/19 @ 12 noon |
| Albany-Schenectady-Troy | WNYA | MNT | Sunday 6/7 @ 3:00 pm |
| Albuquerque-Santa Fe | KRQE | CBS | Sunday 4/26 @ 11:00 am |
| Albuquerque-Santa Fe | KOAT | ABC | Sunday 4/19 @ 12 noon |
| Alexandria, LA | KALB dt 2 | CBS | Saturday 5/2 @ 11:00 am |
| Alexandria, LA | KALB | NBC | Sunday 4/26 @ 11:00 am |
| Alexandria, LA | KALB dt 3 | CW | Sunday 5/3 @ 12 noon |
| Alexandria, LA | KALB dt 3 | CW | Saturday 6/7 @ 10:00 am |
| Amarillo | KCPN | FOX | Sunday 5/3 @ 3:00 pm |
| Amarillo | KCIT | FOX | Sunday 5/10 @ 11:00 am |
| Anchorage | KTVA | CBS | Saturday 4/18 @ 10:00 am |
| Anchorage | KTVA | CBS | Saturday 5/23 @ 9:00 am |
| Atlanta | WSB | ABC | Saturday 4/18 @ 1:00 pm |
| Augusta-Aiken | WAGT | NBC | Sunday 4/19 @ noon |
| Austin | KNVA | CW | Sunday 4/19 @ 12 noon |
| Bakersfield | KBFX | FOX | Saturday 5/16 @ 4:00 pm |
| Baltimore | WNUV | CW | Saturday 5/9 @ 7:00 pm |
| Bangor | WFVX | FOX | Sunday 4/26 @ 12:30 pm |
| Baton Rouge | WGMB | FOX | Saturday 4/25 @ 6:00 pm |
| Baton Rouge | WGMB | FOX | Sunday 4/26 @ 5:00 pm |
| Beaumont-Port Arthur | KFDM | CBS | Sunday 5/10 @ 1:00 pm |
| Biloxi-Gulfport | WXXV | FOX | Saturday 4/18 @ 6:00 pm |
| Binghamton | WIVT | ABC | Sunday 4/19 @ 2:00 pm |
| Binghamton | WIVT | ABC | Sunday 5/10 @ 2:00 pm |
| Binghamton | WIVT | ABC | Sunday 6/7 @ 1:00 pm |
| Birmingham (Ann and Tusc) | WTTO | CW | Saturday 5/2 @ 12 noon |
| Bluefield-Beckley | WOAY | ABC |   |
| Boston | WFXT | FOX | Saturday 5/9 @ 4:00 pm |
| Bowling Green | WBKO dt 2 | FOX | Saturday 5/9 @ 12 noon |
| Bowling Green | WNKY | NBC | Saturday 5/9 @ 12 noon |
| Buffalo | WUTV | FOX | Sunday 5/24 @ 4:00 pm |
| Burlington | WFFF | FOX |   |
| Casper | KCWY | NBC | Sunday 4/26 @ 11:00 am |
| Cedar Rapids-Wtrlo | KCRG | ABC | Saturday 4/18 @ 12 noon |
| Cedar Rapids-Wtrlo | KCRG dt 2 | IND | Tuesday 4/21 @ 8:30 pm |
| Cedar Rapids-Wtrlo | KCRG dt 2 | IND | Saturday 5/2 @ 2:30 pm |
| Cedar Rapids-Wtrlo | KCRG | ABC | Saturday 5/16 @ 12 noon |
| Cedar Rapids-Wtrlo | KCRG | ABC | Friday 5/29 @ 3:00 am |
| Cedar Rapids-Wtrlo | KCRG | ABC | Saturday 6/6 @ 12 noon |
| Champaign&Sprng | WBUI | CW | Saturday 4/25 @ 1:00 pm |
| Champaign&Sprng | WBUI | CW | Sunday 5/10 @ 11:00 pm |
| Charleston, SC | WCIV | ABC | Sunday 5/10 @ 3:00 pm |
| Charleston-Huntington | WQCW | CW | Saturday 4/25 @ 12:30 pm |
| Charleston-Huntington | WVAH | FOX | Sunday 5/31 @ 12 noon |
| Charlotte | WSOC | ABC | Sunday 4/19 @ 2:00 pm |
| Chattanooga | WTVC dt 2 | FOX | Sunday 4/19 @ 11:00 am |
| Chattanooga | WTVC dt 2 | FOX | Saturday 5/9 @ 3:00 pm |
| Chattanooga | WTVC dt 2 | FOX | Saturday 5/16 @ 3:00 pm |
| Chattanooga | WTVC dt 2 | FOX | Sunday 5/24 @ 3:00 pm |
| Chattanooga | WTVC dt 2 | FOX | Saturday 5/30 @ 2:00 pm |
| Chattanooga | WFLI | CW | Saturday 5/23 @ 5:00 pm |
| Chattanooga | WFLI dt 2 | MNT | Saturday 6/6 @ 4:00 pm |
| Cheyenne | KGWN | CBS | Saturday 5/2 @ 11:00 am |
| Cincinnati | WKRC | CBS | Saturday 4/25 @ 1:30 pm |
| Clarksburg-Weston | WDTV | CBS | Saturday 4/18 @ 12 noon |
| Clarksburg-Weston | WDTV | CBS | Saturday 4/25 @ 12 noon |
| Clarksburg-Weston | WDTV | CBS | Saturday 5/2 @ 12 noon |
| Clarksburg-Weston | WVFX | FOX | Sunday 4/19 @ 12 noon |
| Clarksburg-Weston | WVFX | FOX | Sunday 4/26 @ 12 noon |
| Clarksburg-Weston | WVFX | FOX | Sunday 5/3 @ 12 noon |
| Clarksburg-Weston | WVFX | FOX | Sunday 5/9 @ 4:00 pm |
| Clarksburg-Weston | WVFX | FOX | Sunday 5/17 @ 1:00 pm |
| Colorado Springs-Pueblo | KKTV | CBS | Sunday 4/19 @ 10:00 am |
| Columbia, SC | WACH | FOX | Sunday 5/10 @ 4:00 pm |
| Columbia-Jefferson | KRCG | CBS | Sunday 5/10 @ 1:00 pm |
| Columbus, GA (Opelika, AL) | WLTZ | NBC | Sunday 5/10 @ 12 noon |
| Columbus, OH | WSYX | ABC | Sunday 4/19 @ 2:00 pm |
| Columbus, OH | WTTE | FOX | Saturday 5/23 @ 3:00 pm |
| Columbus, OH | WTTE | FOX | Sunday 5/31 @ 3:00 pm |
| Columbus-Tupelo | WLOV | FOX | Saturday 4/25 @ 5:00 pm |
| Corpus Christi | KSCC | FOX | Sunday 5/17 @ 12 noon |
| Dallas-Ft. Worth | KATA | IND | KATA |
| Davenport-R.Island-Moline | WQAD | ABC | Sunday 4/19 @ 1:00 pm |
| Dayton | WRGT | FOX | Saturday 5/23 @ 12 noon |
| Denver | KDVR | FOX | Saturday 5/9 @ 3:00 pm |
| Denver | KWGN | CW | Sunday 5/10 @ 12 noon |
| Des Moines-Ames | KDSM | FOX | Sunday 4/26 @ 5:00 pm |
| Des Moines-Ames | KDSM | FOX | Sunday 5/31 @ 3:00 pm |
| Des Moines-Ames | KDSM | FOX | Sunday 6/14 @ 5:00 pm |
| Detroit | WXYZ | ABC | Saturday 4/18 @ 2:00 pm |
| Dothan | WDHN | ABC | Saturday 4/18 @ 12 noon |
| Dothan | WDHN | ABC | Saturday 5/30 @ 4:30 am |
| Duluth-Superior | KBJR | NBC | Sunday 4/26 @ 11:00 am |
| Elmira (Corning) | WETM | NBC |   |
| Erie | WJET | ABC | Saturday 5/9 @ 1:00 pm |
| Erie | WJET | ABC | Saturday 6/27 @ 5:00 om |
| Evansville | WEVV | CBS | Sunday 5/10 @ 12 noon |
| Evansville | WEVV | CBS | Saturday 5/16 @ 11:00 am |
| Evansville | WEVV | CBS | Saturday 5/23 @ 12:30 pm |
| Evansville | WEVV | CBS | Saturday 6/6 @ 1:00 pm |
| Evansville | WEVV dt 2 | FOX | Sunday 5/3 @ 2:00 pm |
| Evansville | WEVV dt 2 | FOX | Saturday 5/9 @ 12:30 pm |
| Evansville | WEVV dt 2 | FOX | Saturday 5/16 @ 6:00 pm |
| Evansville | WEVV dt 2 | FOX | Sunday 5/31 @ 5:00 pm |
| Fairbanks | KTVF | NBC | Saturday 4/18 @ 12 noon |
| Fairbanks | KTVF | NBC | Monday 5/25 @ 9:00 pm |
| Fairbanks | KTVF | NBC | Saturday 6/13 @ 10:00 am |
| Fairbanks | KXDF | CBS | Sunday 4/19 @ 10:00 am |
| Fairbanks | KXDF | CBS | Sunday 5/31 @ 3:00 pm |
| Fargo-Valley City | KVLY | NBC | Sunday 5/17 @ 8:00 am |
| Fargo-Valley City | KXJB | CBS | Sunday 4/25 @ 11:00 am |
| Flint-Saginaw-Bay City | WJRT | ABC | Sunday 5/10 @ 2:00 pm |
| Fresno-Visalia | KMPH | FOX | Saturday 4/25 @ 3:00 pm |
| Ft. Myers-Naples | WINK | CBS | Saturday 4/25 @ 1:00 pm |
| Ft. Smith-Fay-Sprngdl-Rgrs | KHBS KHOG | ABC | Sunday 4/19 @ 1:00 pm |
| Ft. Wayne | WANE | CBS | Sunday 5/17 @ 12 noon |
| Grand Junction | KFQX | FOX | Saturday 5/9 @ 4:00 pm |
| Grand Rapids-Kalmzoo-B.Crk | WZZM | ABC | Sunday 5/17 @ 1:00 pm |
| Green Bay-Appleton | WLUK | FOX | Sunday 5/10 @ 12 noon |
| Green Bay-Appleton | WCWF | CW | Saturday 6/6 @ 3:00 pm |
| Greensboro-H.Point-W.Salem | WGHP | FOX |   |
| Greenville-N.Bern | WYDO | FOX | Saturday 5/9 @ 6:00 pm |
| Greenvll-Spart-Ashevll-And | WYCW | CW | Sunday 4/12 @ 2:00 pm |
| Harlingen-Wslco | KRGV | ABC | Sunday 4/19 @ 1:00 pm |
| Harrisburg | WHP dt 2 | CW | Saturday 5/2 @ 1:00 pm |
| Hartford & New Haven | WTNH | ABC | Saturday 4/18 @ 1:00 pm |
| Hattiesburg-Laurel | WHPM dt 2 | FOX | Sunday 4/12 @ 1:00 pm |
| Honolulu | KHII | MNT | Saturday 4/25 @ 1:00 pm |
| Honolulu | KHON dt 2 | CW | Sunday 5/3 @ 2:00 pm |
| Honolulu | KHON | FOX | Sunday 5/17 @ 8:00 am |
| Houston | KHOU | CBS | Saturday 6/13 @ 12 noon |
| Huntsville-Decatur (Flor) | WHNT | CBS | Sunday 5/24 @ 11:30 am |
| Huntsville-Decatur (Flor) | WHNT | CBS | Saturday 5/30 @ 11:30 am |
| Huntsville-Decatur (Flor) | WMJN | IND | Saturday 5/23 @ 4:00 pm |
| Idaho Falls | KXPI | FOX | Saturday 4/25 @ 1:00 pm |
| Jackson, MS | WAPT | ABC | Saturday 5/16 @ 4:00 pm |
| Jackson, TN | WBBJ | ABC | Saturday 4/18 @ 1:00 pm |
| Jackson, TN | WBBJ | ABC | Sunday 4/19 @ 1:00 pm |
| Jacksonville | WJXX | ABC | Saturday 4/18 @ 3:00 am |
| Jacksonville | WJXX | ABC | Saturday 5/1 @ 3:00 am |
| Jonesboro | KJNB dt 1 | FOX | Sunday 4/12 @ 1:00 pm |
| Joplin-Pittsburg | KSNF | NBC | Sunday 4/19 @ 11:00 am |
| Juneau | KXLJ | CBS | Saturday 4/18 @ 10:00 am |
| Juneau | KXLJ | CBS | Saturday 5/23 @ 9:00 am |
| Juneau | KATH KSCT | NBC | Sunday 4/19 @ 8:00 am |
| Juneau | KATH KSCT | NBC | Sunday 5/3 @ 8:00 am |
| Kansas City | KSHB | NBC | Sunday 4/19 @ 11:30 am |
| Ketchikan & Sitka | KTNL & KUBD | CBS | Saturday 4/18 @ 10:00 am |
| Ketchikan & Sitka | KTNL & KUBD | CBS | Saturday 5/23 @ 9:00 am |
| Knoxville | WVLT | CBS | Saturday 4/11 @ 12:30 pm |
| La Crosse-Eau Claire | WKBT | CBS | Saturday 4/25 @ 12 noon |
| Lafayette, IN | WPBI dt 1 | FOX | Sunday 4/12 @ 1:00 pm |
| Lafayette, LA | KATC | ABC | Saturday 4/18 @ noon |
| Lansing | WLNS | CBS | Sunday 5/10 @ 11:30 am |
| Laredo | KGNS | NBC | Sunday 4/26 @ 11:00 am |
| Laredo | KGNS dt 2 | CBS | Sunday 4/12 @ 1:00 pm |
| Las Vegas | KVCW | CW | Sunday 4/19 @ 4:00 pm |
| Las Vegas | KVCW | CW | Sunday 6/14 @ 4:00 pm |
| Las Vegas | KVCW | CW | Sunday 6/28 @ 4:00 pm |
| Lexington | WKYT | CBS | Sunday 4/19 @ 12 noon |
| Lexington | WKYT | CBS | Sunday 5/10 @ 12 noon |
| Lima | WTLW | REL | Saturday 5/2 @ 10:00 am |
| Lincoln & Hastings-Krny | KOLN KGIN | CBS | Saturday 5/9 @ 12:00 noon |
| Lincoln & Hastings-Krny | KOLN KGIN | CBS | Sunday 5/10 @ 11:00 am |
| Little Rock-Pine Bluff | KARZ | MNT | Sunday 5/24 @ 3:00 pm |
| Little Rock-Pine Bluff | KARZ | MNT | Sunday 6/27 @ 3:00 pm |
| Los Angeles | KABC dt 2 | ABC | Sunday 5/10 @ 7:00 am |
| Louisville | WHAS | ABC | Saturday 5/9 @ 5:00 pm |
| Lubbock | KLBK | CBS | Saturday 5/9 @ 12 noon |
| Macon | WGXA | FOX | Saturday 4/11 @ 12 noon |
| Macon | WGXA | FOX | Saturday 5/2 @ 2:00 pm |
| Madison | WISC | CBS | Saturday 4/25 @ 12 noon |
| Mankato | KEYC | CBS | Sunday 4/19 @ 11:00 am |
| Mankato | KEYC dt 2 | FOX | Saturday 4/18 @ 5:00 pm |
| Medford-Klamath Falls | KMVU | FOX | Saturday 4/11 @ 4:00 pm |
| Medford-Klamath Falls | KMVU | FOX | Sunday 4/19 @ 3:00 pm |
| Memphis | WHBQ | FOX | Sunday 5/10 @ 3:00 pm |
| Meridian | WGBC dt 1 | FOX | Sunday 4/12 @ 1:00 pm |
| Miami-Ft. Lauderdale | WFOR | CBS | Sunday 4/26 @ 2:00 pm |
| Miami-Ft. Lauderdale | WFOR | CBS | Sunday 5/10 @ 1:00 pm |
| Minneapolis-St. Paul | KSTP | ABC | Sunday 4/19 @ 12 noon |
| Minneapolis-St. Paul | KSTP | ABC | Sunday 4/26 @ 1:30 am |
| Minot | KNDX | FOX | Saturday 4/25 @ 12 noon |
| Minot | KNDX | FOX | Sunday 5/3 @ 12 noon |
| Minot | KNDX | FOX | Saturday 5/9 @ 12 noon |
| Minot | KNDX | FOX | Saturday 5/16 @ 12 noon |
| Minot | KNDX | FOX | Sunday 5/10 @ 12:30 pm |
| Mobile- Pensacola | WALA | FOX | Sunday 5/3 @ 11:00 am |
| Monroe-El Dorado | KARD | FOX | Sunday 4/12 @ 1:00 pm |
| Monroe-El Dorado | KARD | FOX | Sunday 5/10 @ 1:00 pm |
| Monroe-El Dorado | KARD | FOX | Sunday 6/7 @ 1:00 pm |
| Myrtle Beach-Florence | WWMB | CW | Sunday 4/19 @ 3:00 pm |
| Myrtle Beach-Florence | WPDE | ABC | Saturday 5/9 @ 1:00 pm |
| Myrtle Beach-Florence | WWMB | CW | Saturday 5/30 @ 5:00 pm |
| Nashville | WTVF | CBS | Saturday 5/16 @ 12 noon |
| New Orleans | WGNO | ABC | Saturday 4/18 @ 1:00 pm |
| New York | WABC | ABC | Sunday 5/31 @ 1:00 pm |
| New York | WABC | ABC | Saturday 5/2 @ 2:00 am |
| Norfolk-Portsmth | WAVY | NBC | Sunday 4/19 @ 12 noon |
| Norfolk-Portsmth | WVBT | FOX | Sunday 5/10 @ 1:00 pm |
| Norfolk-Portsmth | WVBT | FOX | Sunday 5/31 @ 3:00 pm |
| Norfolk-Portsmth | WVBT | FOX | Sunday 6/21 @ 2:00 pm |
| North Platte | KNPL | CBS | Saturday 5/9 @ 12:00 noon |
| North Platte | KNPL | CBS | Sunday 5/10 @ 11:00 am |
| Odessa-Midland | KWES | NBC | Sunday 5/3 @ 11:30 am |
| Oklahoma City | KOCB | CW | Saturday 6/13 @ 4:00 pm |
| Omaha | KMTV | CBS | Sunday 5/17 @ 12 noon |
| Orlando-Daytona | WFTV | ABC | Sunday 6/14 @ 5:00 pm |
| Ottumwa-Kirksville | KTVO | ABC | Saturday 5/2 @ 1:00 pm |
| Ottumwa-Kirksville | KTVO | ABC | Saturday 5/9 @ 4:00 pm |
| Ottumwa-Kirksville | KTVO | ABC | Saturday 5/23 @ 4:00 pm |
| Ottumwa-Kirksville | KTVO dt 2 | CBS | Saturday 4/26 @ 12 noon |
| Ottumwa-Kirksville | KTVO dt 2 | CBS | Sunday 5/10 @ 12 noon |
| Ottumwa-Kirksville | KTVO | ABC | Saturday 6/20 @ 10:30 pm |
| Paducah | WDKA | MNT | Sunday 4/26 @ 5:00 pm |
| Paducah | KBSI | FOX | Saturday 5/9 @ 12 noon |
| Palm Springs | KDFX | FOX | Sunday 5/3 @ 10:00 am |
| Parkersburg | WIYE | CBS | Sunday 4/19 @ 12 noon |
| Peoria | WEEK | NBC | Sunday 5/10 @ 1:00 pm |
| Peoria | WEEK | NBC | Saturday 5/16 @ 12 noon |
| Peoria | WEEK dt 2 | ABC | Saturday 4/18 @ 1:00 pm |
| Philadelphia | WPVI | ABC | Sunday 5/10 @ 2:00 pm |
| Phoenix | KPHO | CBS | Sunday 5/10 @ 10:00 am |
| Pittsburgh | WPNT | MNT | Saturday 4/18 @ 1:00 pm |
| Pittsburgh | WPNT | MNT | Saturday 5/2 @ 2:00 pm |
| Pittsburgh | WPNT | MNT | Sunday 6/14 @ 2:00 pm |
| Portland, OR | KOIN | CBS | Sunday 5/3 @ 9:30 am |
| Portland-Auburn | WMTW | ABC | Sunday 5/10 @ 1:30 pm |
| Providence-New Bedford | WJAR | NBC | Sunday 4/26 @ 12 noon |
| Quincy | WGEM dt 2 | FOX | Sunday 4/12 @ 12 noon |
| Raleigh-Durham (Fayetvlle) | WTVD | ABC | Sunday 5/10 @ 11:30 am |
| Rapid City | KCLO | CBS | Sunday 4/26 @ 10:00 am |
| Rapid City | KCLO | CBS | Sunday 5/17 @ 10:00 am |
| Reno | KOLO | ABC | Saturday 4/18 @ 2:00 pm |
| Reno | KOLO | ABC | Saturday 5/10 @ 3:00 pm |
| Richmond-Petersburg | WRLH | FOX | Saturday 5/9 @ 3:00 pm |
| Roanoke-Lynchburg | WSLS | NBC | Sunday 4/19 @ 12 noon |
| Rochester, NY | WUHF | FOX | Saturday 5/23 @ 5:00 pm |
| Rochestr-Mason City-Austin | KXLT | FOX | Sunday 4/26 @ 12 noon |
| Salisbury | WMDT | ABC | Saturday 5/9 @ 12 noon |
| Salisbury | WMDT | ABC | Saturday 5/30 @ 12 noon |
| Salt Lake | KCSG | IND |   |
| San Antonio | KABB | FOX | Saturday 5/16 @ 3:00 pm |
| San Diego | SD Cable | IND |   |
| Savannah | WTGS | FOX | Sunday 5/17 @ 1:00 pm |
| Seattle | KIRO | CBS | Saturday 5/2 @ 11:00 am |
| Shreveport | KMSS | FOX | Sunday 4/12 @ 12 noon |
| Sioux City | KCAU | ABC | Sunday 4/26 @ 2:00 pm |
| Sioux Falls(Mitchell) | KELO | CBS | Sunday 4/26 @ 11:00 am |
| Sioux Falls(Mitchell) | KELO | CBS | Sunday 5/17 @ 11:00 am |
| South Bend-Elkhart | WSBT dt 2 | FOX | Saturday 4/25 @ 2:00 pm |
| South Bend-Elkhart | WSBT dt 2 | FOX | Saturday 5/2 @ 2:00 pm |
| South Bend-Elkhart | WSBT dt 2 | FOX | Sunday 5/3 @ 1:00 pm |
| South Bend-Elkhart | WSBT dt 2 | FOX | Saturday 5/9 @ 2:00 pm |
| South Bend-Elkhart | WSBT dt 2 | FOX | Sunday 5/10 @ 5:00 pm |
| South Bend-Elkhart | WSBT dt 2 | FOX | Saturday 5/16 @ 5:00 pm |
| South Bend-Elkhart | WSBT dt 2 | FOX | Sunday 5/17 @ 12 noon |
| South Bend-Elkhart | WSBT dt 2 | FOX | Sunday 5/24 @ 3:00 pm |
| South Bend-Elkhart | WSBT dt 2 | FOX | Saturday 5/30 @ 2:00 pm |
| South Bend-Elkhart | WSBT dt 2 | FOX | Sunday 5/31 @ 12 noon |
| South Bend-Elkhart | WSBT dt 2 | FOX | Saturday 6/6 @ 1:00 pm |
| South Bend-Elkhart | WSBT dt 2 | FOX | Sunday 6/7 @ 12 noon |
| South Bend-Elkhart | WSBT dt 2 | FOX | Sunday 6/7 @ 5:00 pm |
| South Bend-Elkhart | WSBT dt 2 | FOX | Sunday 6/14 @ 12 noon |
| South Bend-Elkhart | WSBT dt 2 | FOX | Saturday 6/20 @ 1:00 pm |
| South Bend-Elkhart | WSBT dt 2 | FOX | Sunday 6/21 @ 12 noon |
| South Bend-Elkhart | WSBT dt 2 | FOX | Saturday 6/27 @ 1:00 pm |
| Spokane | KXLY | ABC | Saturday 5/9 @ 11:00 am |
| Springfield, MO | KYTV | NBC | Saturday 4/18 @ 1:00 pm |
| Springfield, MO | KYTV | NBC | Saturday 5/9 @ 4:00 pm |
| St. Louis | KDNL | ABC |   |
| Syracuse | WSYR | ABC | Saturday 4/18 @ 2:00 pm |
| Tallahassee-Thomasville | WCTV | CBS | Sunday 4/19 @ 12 noon |
| Tallahassee-Thomasville | WCTV | CBS | Sunday 5/3 @ 12 noon |
| Tallahassee-Thomasville | WCTV | CBS | Saturday 6/6 @ 2:00 pm |
| Tampa-St. Pete (Sarasota) | WTSP | CBS | Saturday 4/19 @ 12 noon |
| Tampa-St. Pete (Sarasota) | WTSP | CBS | Saturday 4/26 @ 12 noon |
| Tampa-St. Pete (Sarasota) | WWSB | ABC | Saturday 5/2 @ 1:00 pm |
| Tampa-St. Pete (Sarasota) | WWSB | ABC | Sunday 5/3 @ 7:00 pm |
| Toledo | WTVG | ABC | Saturday 5/16 @ 1:00 pm |
| Toledo | WTVG dt 2 | CW | Sunday 5/31 @ 1:00 pm |
| Topeka | KTMJ | FOX | Sunday 4/12 @ 12 noon |
| Topeka | KTKA | ABC | Sunday 4/12 @ 12 noon |
| Topeka | KTKA | ABC | Saturday 4/18 @ 12 noon |
| Topeka | KSNT | NBC | Sunday 4/26 @ 12 noon |
| Topeka | KTKA | ABC | Saturday 5/9 @ 12 noon |
| Topeka | KTMJ | FOX | Sunday 5/10 @ 1:00 pm |
| Traverse City | WPBN | NBC | Sunday 5/10 @ 1:00 pm |
| Tucson (Sierra Vista) | KVOA | NBC | Sunday 4/26 @ 10:00 am |
| Tulsa | KOKI | FOX | Saturday 4/25 @ 3:00 pm |
| Tyler-Longview(Lfkn&Ncgd) | KTPN | MNT | Sunday 5/10 @ 11:00 am |
| Tyler-Longview(Lfkn&Ncgd) | KFXK | FOX | Sunday 5/23 @ 12 noon |
| Waco-Temple-Bryan | KWKT | FOX | Wednesday 5/13 @ 2:00 am |
| Washington, DC | WJLA | ABC | Saturday 4/4 @ 12 noon |
| Washington, DC | ZNWS | NEWS | Saturday 4/4 @ 1:00 pm |
| Watertown | WWTI | ABC | Saturday 5/2 @ 1:30 pm |
| Wausau-Rhinelander | WAOW | ABC | Saturday 5/2 @ 12 noon |
| Wausau-Rhinelander | WAOW | ABC | Saturday 5/9 @ 4:00 pm |
| Wausau-Rhinelander | WAOW | ABC | Saturday 5/23 @ 4:00 pm |
| Wausau-Rhinelander | WAOW | ABC | Saturday 6/6 @ 12 noon |
| Wausau-Rhinelander | WAOW | ABC | Friday 6/12 @ 2:05 am |
| West Palm Beach-Ft. Pierce | WPEC | CBS | Sunday 5/10 @ 12 noon |
| Wheeling | WTOV dt 2 | FOX | Saturday 4/11 @ 6:00 pm |
| Wheeling | WTOV dt 2 | FOX | Sunday 5/31 @ 6:00 pm |
| Wichita Falls | KSWO | ABC | Sunday 5/10 @ 12 noon |
| Wilkes Barre-Scranton-Hztn | WQMY | MNT | Saturday 5/2 @ 6:00 pm |
| Wilmington | WWAY | ABC | Sunday 4/19 @ 2:00 pm |
| Yakima | KAPP | ABC | Saturday 5/2 @ 11:00 am |
| Youngstown | WFFX | FOX | Saturday 4/25 @ 12 noon |
| Youngstown | WYTV dt 2 | MNT | Sunday 4/26 @ 1:00 pm |
| Youngstown | WYTV dt 2 | MNT | Sunday 5/31 @ 3:00 pm |
| Yuma-El Centro | KECY | FOX | Saturday 5/23 @ 2:00 pm |
| Yuma-El Centro | KECY | FOX | Sunday 6/7 @ 12 noon |
| Zanesville |   |   |   |