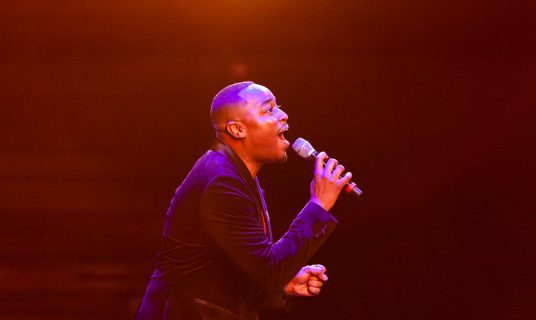 SING INTO SPRING COMPETITION!
The National Cherry Blossom Festival is seeking vocal soloists and/or group vocalists to perform in the National Cherry Blossom Festival Parade®. This is your opportunity to participate in the nation's grandest display of springtime pageantry with top entertainment, seen by hundreds of thousands live and on television! The festival selects up to 20 finalists to sing live before a panel of industry judges in Washington, DC at the Arena Stage at the Mead Center for American Theater.
This year's annual Sing into Spring Competition is now closed. Come back to this page for upcoming audition information! Don't miss your chance to perform in this iconic DC tradition!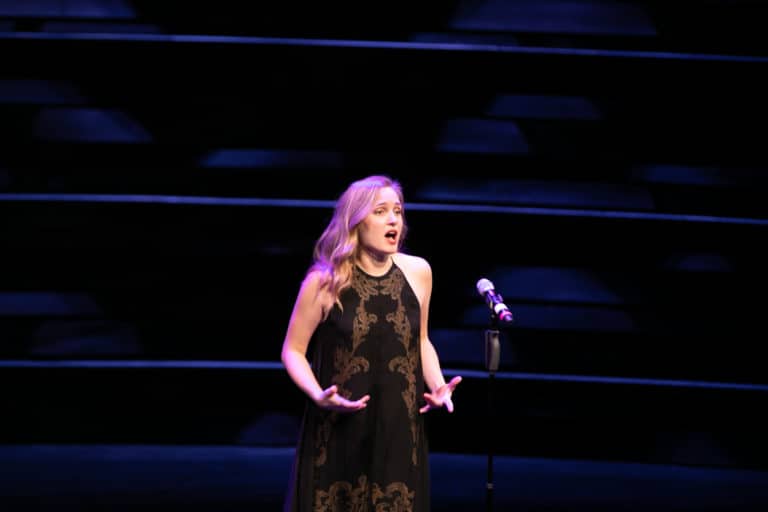 Aurora Martin is quickly becoming recognized for
her colorful and sparkling soprano. She completed
her masters in Vocal Performance at The New
England Conservatory (NEC). Her love of concert
work led her to performances of Erik Satie's Socrates
and Mahler's Das Knaben Wunderhorn with NEC's
orchestra and a notable performance of Pamina
in Die Zauberflöte. Aurora received her Bachelor's
degrees in both Music and Chemistry from Virginia
Tech and in 2011, she was selected as a Young
Apprentice Artist with Opera Roanoke and made
her professional debut as Inez in Il Trovatore.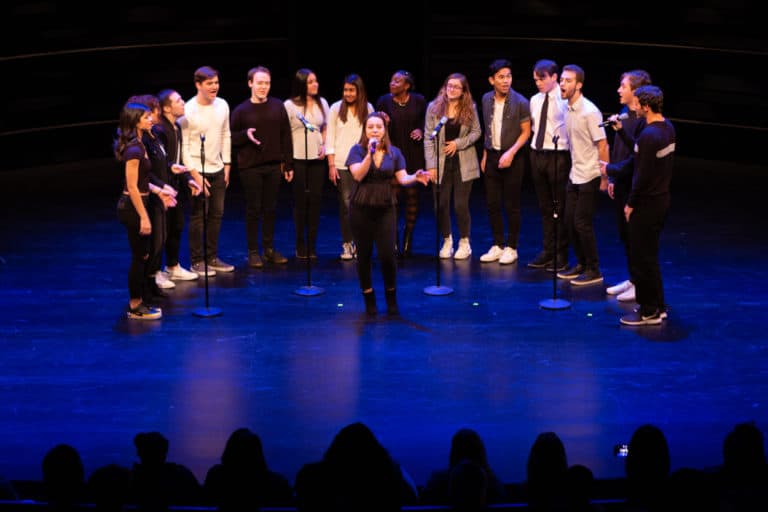 Founded in 1925, The GW Troubadours is George
Washington University's original a cappella group.
Rooted in their passion for music, the Troubs bring
a sense of community and family from their studio
to the stage every time they perform. They have
performed at the National Cathedral, The Obama
White House, and The Supreme Court among other
landmark DC institutions. Last year, they recorded
their 6th studio album, "Ascent", now on all major
streaming platforms
Get to know this year's host, featured performers and panel of judges!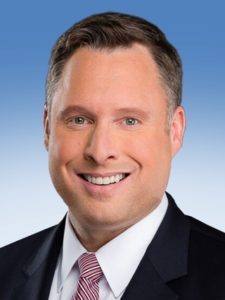 HOST

Steve Rudin has been forecasting the weather for the District, Virginia, and Maryland for nearly 25 years. He can be seen daily on at Noon, ABC7 News at 4 and WJLA 24/7 News. 
Prior to joining the ABC7/WJLA-TV StormWatch Team, he worked at the CBS affiliate in Washington, D.C. and the NBC affiliate in Madison, Wisconsin. Steve has also been a substitute weather anchor for ABC's top-rated Good Morning America.
Through his popular Facebook page and tweets, Steve provides thought-provoking tidbits about the weather, current events and anything else that grabs his attention. A dedicated community member, Steve hosts events for worthwhile organizations, including Doorways for Woman and Families, the Jewish Community Center, the Air Force Cycling Classic, Calvery Woman's Services, Sjögren's Syndrom Foundation, Human Rights Campaign, Food and Friends and the Kennedy Center.
Steve was inspired to a career in meteorology by a lifelong curiosity of earth science and global travel. He earned a Bachelor of Science in geography and meteorology from Michigan State University, attended graduate school at the University of Michigan and did additional coursework in broadcast meteorology at Mississippi State University. He is a member of the American Meteorological Society and National Weather Association and holds the Television Seal of Approval.
In high school he was an exchange student in Australia. Off the air, Steve hangs out with his rescue dog, Gus, goes to the gym, travels, dabbles in photography and debates politics with his sister. He is also an avid airplane geek and can often be seen watching them takeoff and land at Gravelly Point near Reagan National Airport.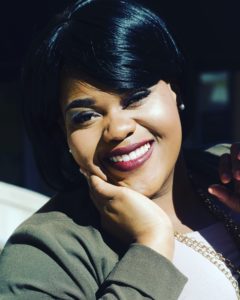 FEATURED PERFORMER & JUDGE
Marissa Harris, also known as "Randae" sang her first solo at age two. Randae's colorful personality and musical gift only grew better with time, which encouraged her to Major in the only thing she loves wholeheartedly to do, sing.
Randae graduated in 2018, Cum laude, Vocal Performance, from the University of the District of Columbia where she studied under the tutelage of Professor Nelda Ormond.
In the past year Randae's prolific performances included participation in The Black Composer Concert and listing as a featured artist in the 2019 Millennials Jazz and Classical Concert; Semi-Finalist for the Washington International Competition for Voice; 2019 Sing into Spring Winner which lead to a Fox 5 television interview and performance;; National Anthem Soloist for the World Champion Washington Nationals; Vocalist for DC's Independence Day Parade and Performer for Lott Carey Foreign Mission Women In Service Everywhere (WISE). The music inside her never stops! Randae's goal is to share her soul through musical performance with excellence and passion that will motivate and heal others.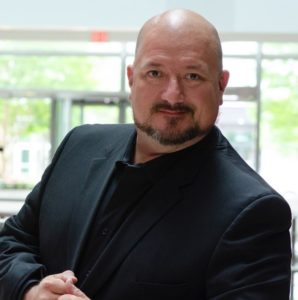 The Toby Knapp half of DC's Toby and Chilli morning radio ensemble is no stranger to DC listeners. After a decade as the top-rated Afternoon Drive host on Hot 99-5, Toby joined WASH in January 2018 to create a completely new morning experience. A monumental personality, single father to a teenage daughter in high school, who is "dating but not seriously looking," Toby's hosted the White House Easter Egg Roll and has contributed countless hours to multiple charitable causes. When not living life out loud, you'll find Toby emceeing an area event, enjoying a theatrical production, catching a Nats game, enjoying DC's live music scene, enjoying an area winery, or exploring "someplace new nearby" while sharing it all on Instagram, Facebook and Twitter. Oh, and he says he's working on buying his first home because he says his daughter is "over dad hogging all the sink space" in their Rockville, Maryland apartment which they share with their Maltese puppy, Clover Maxwell.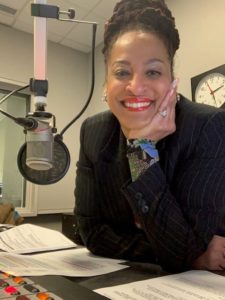 Geri Mitchell joined WAMU as the midday News Anchor/Host in November 2017. A native of St. Louis, Mitchell was the local host of Morning Edition at St. Louis Public Radio from 2013-2017. She is the first African American (and female) to host the morning show in the St. Louis/metropolitan region.
Mitchell graduated from Southern Illinois University-Edwardsville in 1984 with a B.S. in Mass Communications Radio/TV. She obtained her MBA in Business Marketing from the University of Phoenix in 2005.
Mitchell has more than 30 years of experience in radio. Among her most distinguished work: She produced a long running show, "Whats's Going On" with former St. Louis Mayor Freeman Bosley, Jr. at CBS Radio. Mitchell has worked for Gannett Broadcasting, EZ Communications, Infinity Radio, CBS, Clear Channel Media and Entertainment, iHeart Radio and St. Louis Public Radio.
Mitchell is the proud mother of two sons, Mitchell and Miles, and is also a happy "pet mom". She is a member of Alpha Kappa Alpha Sorority.  In her free time, she enjoys long walks, music and the arts; and a good game of billiards. She is a published editor and aspiring writer. She enjoys travel and continues to carve out quality time for family and good friends.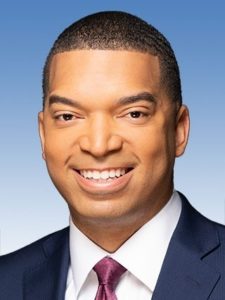 Carl Willis has been filing reports from the field and anchoring newscasts for nearly two decades. He joined the ABC7 News team in September 2018 as a reporter and weekend anchor.
Prior to arriving in Washington, D.C. Carl worked for WSB-TV in Atlanta, KPRC in Houston, WFTV in Orlando, and KVII in Amarillo, Texas.
He has covered a wide range of important stories including the Mother Emanuel Church shooting in Charleston, and the Pulse Nightclub massacre in Orlando.
He's an alumnus of Florida State University, and a proud member of Alpha Phi Alpha Fraternity, Inc. Carl is married and has a little Alpha man in training. He's also a huge Prince fan and a vinyl collector.
CAN'T FIND WHAT YOU'RE LOOKING FOR?