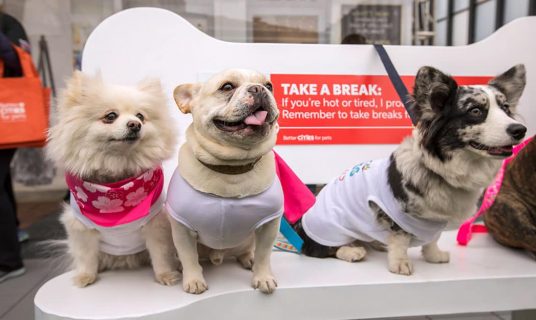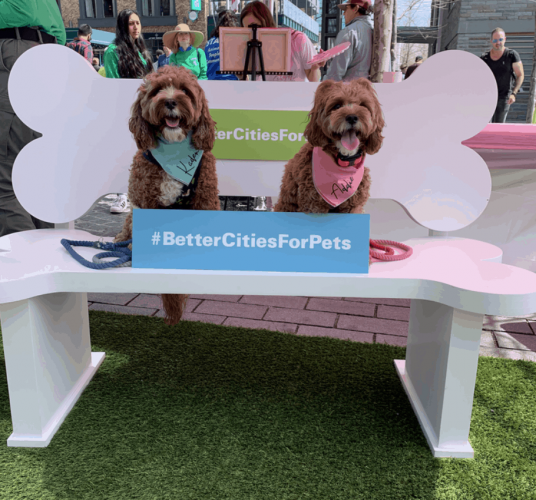 The Festival is pet ready
IS YOUR PET FESTIVAL READY?
For the third year in a row, the National Cherry Blossom Festival has teamed up with Mars Petcare and the Better Cities For Pets™ program to ensure dogs are healthy, happy and safe. As part of the partnership with Mars Petcare, the Festival provides fun and safe opportunities for your fur baby to  be a part of it all!

Amenities for dogs and their owners include select virtual event participation, exclusive giveaways, and other helpful resources for pet parents in the city! Our goal is to create a positive experience for all four-legged attendees throughout the Festival.
VIRTUAL 5K TIPS BY Dr. Ari Zabell of Banfield Pet Hospital®
GET INTO THE SPIRIT OF SPRING
1 – Asses your pet. Though every dog needs exercise, not all dogs can take the stress of long-distance running – or even walking. And it's not just about the breed as not all dogs of the same breed are created equal (from a running perspective). Health conditions and older age is at least as much of an issue as being too young.
2 – Get a pre-run check-up. If you haven't already been running and exercising long distances with your pet, get a "pre-run examination" from your veterinarian to discuss any issues your pet might have.
3 – Provide support. Keep a close eye on how well your pet is doing as well as how well you are doing. The same way some dogs will eat far more food than they should, many dogs will keep on running long after they should stop and rest. Your pet relies on you to watch out for them.
4 – Stay hydrated. Keep your pet hydrated too, make sure they have the opportunity to take water breaks during the run, but make sure they don't drink too much too quickly – it won't help them if they give it all back to you.
5 – Make a plan. The general rule of running with your dog is don't walk or run them farther than you are willing to carry them back. If they do get exhausted or they hurt themselves, make sure you have a plan to get them back home – or to the veterinarian – if they need help.
GETTING YOUR PET FESTIVAL READY
We want everyone to feel comfortable bringing their dogs to the National Cherry Blossom Festival in the places where social distancing is permitted. Below are a few things to keep in mind before you enjoy the blossoms with your furry friend.
We will have hydration stations, treats, waste bags and relief areas available at the Festival, but please come prepared with anything specific your dog may need outside of your home.
Keep your furry friend leashed
To protect your dog, it's important to keep your dog on a leash to ensure they are secure in the crowd and other attendees don't get any unwanted attention.
Please be a responsible pet owner and pick up after your pet.
Keep in mind any impending inclement weather and plan accordingly for your pet.
Be your dog's best advocate
Know your dog, including what they like and do not like, so you can know if the festival environment will be appropriate for them. If you have a nervous pup, or if your pet doesn't like being around large groups of people, keep that in mind as the Festival draws thousands of people per day.
CAN'T FIND WHAT YOU'RE LOOKING FOR?