START THE FESTIVAL SEASON WITH US!
CO-PRESENTED WITH THE JAPAN FOUNDATION
The National Cherry Blossom Festival's signature Opening Ceremony is an artistic celebration of the 1912 gift of trees from Tokyo to Washington, DC, and an annual tribute to the longstanding friendship between Japan and the United States. This unique, one-time-only performance will feature special performances from acclaimed artists with ties to both countries.
Performers are announced below! Tickets are available to claim in late February 2023. Sign up for our emails to get early access — the performance will also be available via Livestream on the Festival YouTube channel, @CherryBlossFest.
2023 Opening CeremoNY pERFORMERS
Anna Sato & Toshiyuki Sasaki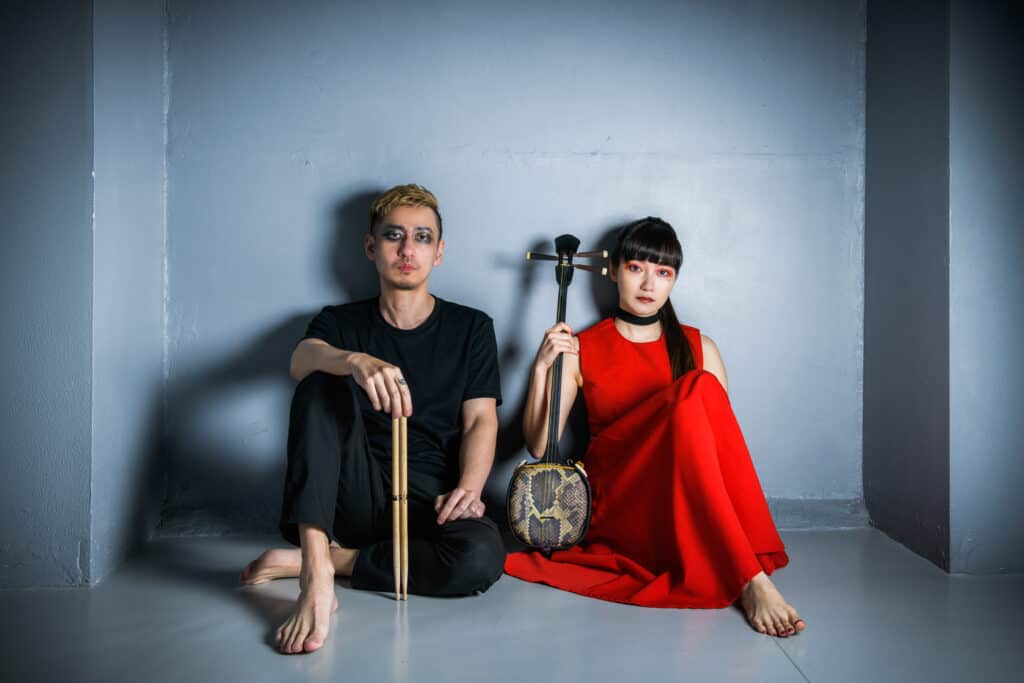 Anna Sato is a Shimauta singer from Amami Islands and Toshiyuki Sasaki is a drummer. They originally formed the unit just to perform for Rencontres de Chants Polyphoniques, a music festival held in Corsica (France) in 2016, but officially made a debut as a duo after that. Shimauta repertoire is traditionally accompanied by Chijin drumming. While Sato keeps the fundamental structure of Shimauta singing with Chijin playing, she is also accompanied by the sound of western style drumming by Sasaki and changes up her choice of musical instrument from Chijin to Sanshin (three string banjo-like instrument) or Amami Tategoto (vertical harp). By doing so, the duo creates a completely original groove and produces the traditional music that is relevant to the present audience. They had a successful concert in Paris in 2017. Since then, they have released three full-albums and five 7-inch singles together. Most recently, they released a limited-edition album only for Europe and keep expanding the field of activities tirelessly.
Mika Stoltzman, called "High-wire jazz marimbist… an amazing, energetic performer ready for major exposure." (LA Times) was born in Amakusa Island, Kumamoto, Japan, and now resides in Boston. 
Mika released her album, Mitsue, in 1998, Marimba Phase, in 2003. 
In 2010 also released a live DVD, MARIMBA MADNESS (Big Round Records). CDMikarimba (Video Art Music, Japan).
In 2013 released If You Believe,in 2013(TeeGa music,Japan) with Steve Gadd.
In 2017,Mika and Richard Stoltzman recorded a duo album with producer Stephen Epstein, guest artist Chick Corea and BMOP(Boston Modern Orchestra). This CD Duo Cantando released by DENON label (Nippon Colombia,Japan and Savoy record,US). In 2019, Classical CD Palimpsest (AVIE Record) and Jazz CD Tapereba (Big Round) released.  In 2022, Jazz CD&LP Sprit of Chick Corea ( Disc Union) and Classical LP SOLO (Disc Union) released.   
Also, her arrangement and performance of "Tokyo/Vermont Counterpoint" appears on Steve Reich's album Triple Quartet (Nonesuch). She has also appeared on Richard Stoltzman's album Goldberg Variations (BMG Japan) and Jo Hisaishi's Asian X.T.C. (Universal Japan). 
Mika has performed 10 times at Carnegie Hall (Zankel & Weill),PASIC 2005&2007, Blue Note NY,Blue Note Tokyo,Cairo Jazz Festival, YOSHI's CA and other Jazz club. On August 13th 2015, Mikarimba celebrated a sell-out concert at the Rockport Jazz Festival (MA) with Steve Gadd.
In addition to touring in 19 countries and 60 cities around the world. 
She premiered Marimba Concerto with the Kyushu Symphony Orchestra and Kumamoto Symphony Orchestra. She was also guest soloist in the Kracow Philharmonic in Poland, and Szombathey Symphony Orchestra in Hungary. 
In 2013, Mika's guest performance of Chick Corea's Piano Concerto No. 1 on Marimba (World Premiere) with Xalapa Symphony Orchestra in Mexico and Verona Italy. Also, Chick Corea's Concerto recorded with Boston Modern Orchestra.  
Mika produced and performed the Amakusa Island Magic(International Music Festival)  2005-2008 and  "Kumamoto Red Music Festival" 2014 for celebrate her 50 years anniversary.
She has been performing actively with the duo "The Stoltzmans on Clarinet and Marimba" with Richard Stoltzman. They have been performing globally in New York, Boston, Austin, Buenos Aires, Beijing, Hong Kong, Italy, France, Germany and Japan.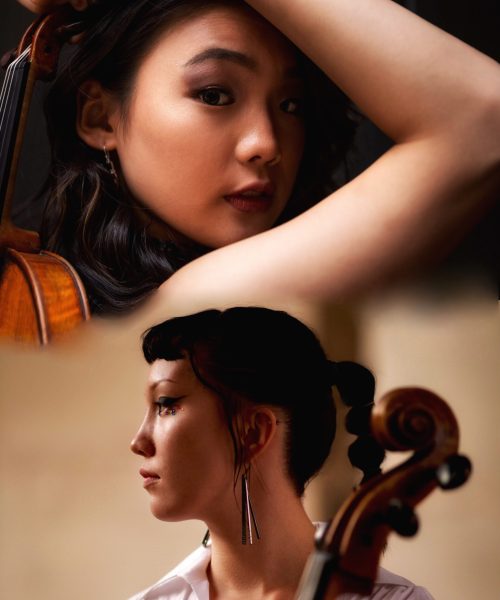 PETÆL
Produced by Tanya Gabrielian, the Ryuji Ueno Foundation presents PETÆL. Miray Ito, violin and Isabelle Fromme, cello, two award-winning classical musicians blend their virtuosity with popular Japanese classics in a high-octane performance mixing tradition with genre-breaking fireworks.c
The Ryuji Ueno Foundation is dedicated to supporting excellence in classical music, broadening its relevance to new audiences and furthering innovation in the arts. The foundation supports individual artists to develop and explore their talent and achieve their full potential through number of programs.
Hailed by the London Times as "a pianist of powerful physical and imaginative muscle," Tanya Gabrielian is also passionate about inspiring new generations of musicians and music lovers in diverse settings, dedicated to community engagement, education, and activism through art.
Violinist Miray Ito made her Carnegie Hall debut at the age of twelve and a few months later was awarded first prize at the Kocian International Violin Competition in the Czech Republic. Miray has since amassed a number of prizes, including laureate of the Kloster Schöntal International Violin Competition, Young Artist of the Year by the Ruth Laredo Memorial Foundation, Salon de Virtuosi Career Grant, and the Joan Graham Award and Irene Kinsey Stare Award, both from the Tuesday Musicale of Detroit. She has performed as a soloist with orchestras including the Sendai Philharmonic, Toledo Symphony, and Yamagata Symphony and was a featured artist on NPR's "From the Top" with Peter Dugan. Miray was accepted into The Juilliard School at sixteen and is currently finishing her studies with Li Lin. She plays a 1734 Pietro Guarneri violin on a generous loan from The Ryuji Ueno Foundation. 

Growing up in a family of artists, cellist Isabelle Fromme has established herself as a multifaceted musician. She has embraced diversity in her own career, with performances in world-renowned halls across the world, including the Berliner Philharmonie and the Musikverein in Vienna, festival appearances at the Kronos Festival and Potomac Music Lab, collaborating on the Grammy Award-winning album Four Questions with social activist Cornel West and the UCLA Afro Latin Jazz Orchestra, the FLUX Ensemble and the legendary Mariachi Los Camperos, and community-focused performances, including concerts for Midnight Mission, Music for Food, and with LA Homeless Shelter and Services. Beyond music, Isabelle also finds time to create, working with photography, photo editing, special effects makeup, songwriting, and film writing.
Parking is limited in the District, especially during the National Cherry Blossom Festival. It's highly recommended that visitors use DC's alternative transportation modes like Capital Bikeshare, DC Streetcar, Scooters, DC Circulator, Metrobus, and Metrorail to make the most of their experience.
 The show will be live-streamed on the Festival YouTube Channel.
All fans must provide either proof of a negative COVID-19 test result, taken within 72 hours of the event, or proof of full COVID-19 vaccination (14 days past final vaccination shot).
Negative COVID-19 tests, taken within 72 hours of the event, are required for guests from ages 3 to 12. Fans 2 & Under do not require testing.
Live Nation will accept all FDA allowed COVID-19 PCR, Antigen, or Molecular Tests, that is date and time stamped, within 72 hours of the event.
Masks are required at all times, except when actively eating and drinking.
Bag Policy: The venue will only allow clear plastic, vinyl, or PVC tote bags no larger than 12″ x 6″ x 12″ and/or small clutch bags (4.5″x 6.5″)
Can't wait for 2023? You can still watch the 2022 Opening Ceremony livestream below and please subscribe to our YouTube channel for more great Festival content!
a SNEAK PEAK OF PAST PERFORMANCES!