REDISCOVER THE FLAVORS OF SPRING
This spring we discovered local restaurants across the District as they showcased their best spring time menu items through Cherry Picks in conjunction with the Restaurant Association of Metropolitan Washington. We invite you to explore the list of the 2022 Cherry Pick restaurants below and rediscover spring through the District's blossoming dining scene. Sign up for our newsletter or follow us on Instagram for more Cherry Picks fun coming up in 2023!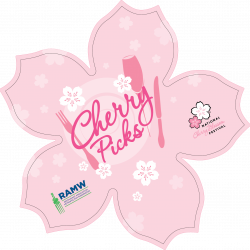 Round out the evening with the District Blossom Cocktail by District Winery!
Check out District Winery, a boutique urban winery set in the heart of The Yards, a bustling community in DC's Navy Yard along the Anacostia River. The District Blossom cocktail, made with cherry blossom tea-infused vodka, District Winery Zinfandel, orange juice, cranberry juice, and Chambord, can conclude your night after a fun full week of amazing food.
Are you a restaurant interested in participating?
SELECT YOUR CHERRY PICK RESTAURANT
What began with a gift in 1912 at the Tidal Basin is now a four-week extravaganza spanning Washington, DC, and neighboring communities in Maryland and Virginia. Click the filters on our interactive map to see all the Festival's Cherry Pick participants and craft a tailored experience as you Rediscover Spring. 
To use the map, scroll over the "Filter by" menu and check the box next to the locations you wish to see on the map. Hit the plus button in the lower right hand corner to zoom in to see more detail. Click Get Directions to plot a walking, biking, scooter, or driving route to your chosen destination!
Questions? E-mail us at ncbf@ncbfdc.org.
CAN'T FIND WHAT YOU'RE LOOKING FOR?